Come join us this Memorial Day weekend as we celebrate urban nerd culture!! "Blerd Bash", a national tour that makes the anime and gaming fan experiences more accessible to urban communities, is returning for its second annual Chicago event. We're bringing you an awesome event that fuses urban and otaku/gamer culture for a day packed with fun activities and good vibes.
What to expect:
🛍️ Vendor Marketplace and Job Fair
💃🏾 Hip-Hop/Rap/R&B Dance Party
🦹‍♀️ Cosplay Contest
🎮 Open Play Video Games
🍸 Delicious Food & Themed Cocktails
📷 Photoshoot
🎤 Local Hip-Hop Music Showcase
The Venue
This event will be held at Ignite Gaming (Skokie) where there is no shortage of gaming available with your selection of over 80 PCs, VR stations, numerous Xbox and PlayStation consoles, dedicated RockBand rooms, racing sims, and more. There are two full bars that sell a number of cocktails and great food including pizza, wings, sandwiches, milkshakes, etc.
Transportation and Parking
Ignite Gaming is just 4 minutes walking distance from Oakton-Skokie station (Yellow Line).
The building has a dedicated parking lot with free parking. There are also plenty of other parking options within a short walking distance. Please drive responsibly!
Ignite Gaming is approximately 15-25 minutes away from downtown Chicago by car (depending on traffic).
Gaming
The gaming lounge will be open from 2:00 pm – 12:00 am (please note, the gaming lounge will be closed for the last two hours of the party which ends at 2:00 am).
Access to gaming stations is available on a first-come, first-served basis and is subject to availability.
Gaming is NOT included with the general admission ticket but can still be purchased on-site. Combination tickets are available online which offer the best rate for both admission to the event and access to the game stations.
Game time does not have to be consecutive. For example, if you purchase the two-hour package, you can start playing at the couch console co-op for an hour, pause to go to check out the vendor marketplace for an hour, grab a bite to eat at the bar, and then come back and play on PC for another hour. Your time will be paused when you are not at a game station.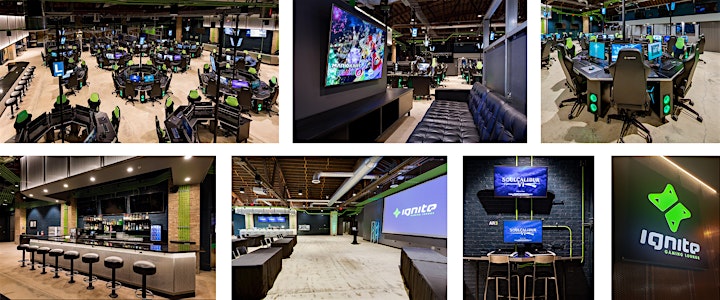 Open Play Gaming
Come hang out at THE best gaming lounge and esports center in the country! Enjoy your pick between numerous games across Xbox, PlayStation, Nintendo Switch, and even PC. Or perhaps you want to jam out in one of the private RockBand rooms. Gaming is available at an hourly rate but our combination ticket packages offer a discount when you bundle game time with general admission. Open play gaming will be available from 2:00 pm – 12:00 am.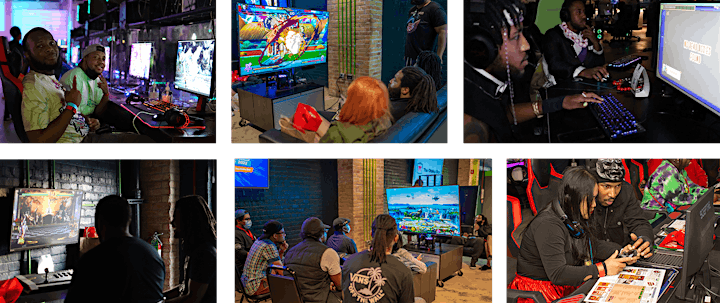 Vendor Marketplace & Job Fair
Visit our vendor marketplace and support local brands related to anime, video games, comics, hip-hop culture, and other related topics. Job seekers, be sure to bring your resume and be prepared to speak to recruiters from businesses involved in gaming, tech, animation, and other relevant industries. The vendor marketplace and job fair will be available from 2:00 pm – 8:00 pm.
Party
The party really starts when the sun goes down! The vendor hall will shut down at 8:00 pm and the room will reopen again at 10:00 pm for a huge dance party. Our live DJ will spin some of the best hip-hop and R&B songs from old-school classics to modern-day hits. Stick around for our cosplay contest and support local music artists gracing us with their performances during our music showcase. Gaming will still be available throughout the lounge until 12:00 am and there will be limited gaming available inside of the party room.
Age Restrictions
From 2:00 pm – 8:00 pm, all persons under the age of 14 inside the vendor marketplace and job fair hall (the main event room) need to be accompanied by an adult.
The gaming lounge is a separate space and will be available to the public of all ages up until 10:00 pm.
After 10:00 pm, no person under the age of 18 will be permitted into the building, this includes both the main event room and the gaming lounge.
Important Note
Please note there are two hours allotted (8:00 pm – 10:00 pm) to reconfigure the room for the party event. During this time, the vendor hall (the main event room) will be closed and all attendees must move over to the gaming lounge. These are two rooms in the same building connected by a short hall (where the bathrooms can be found) and a kitchen and bar. The bar and kitchen will still be available for enjoyment during this time (the food is really good!) It is not required that you leave the premise but if you choose too, re-entry is allowed when you show event staff and security your wristband.